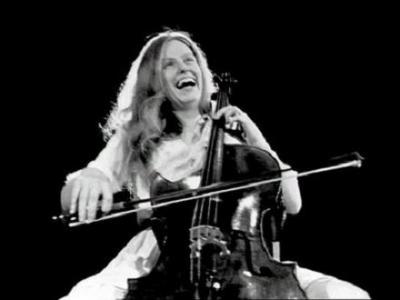 Jacqueline Mary du Pré, nació en Oxford en 1945 y es una de las mejores violonchelista. Desde la primera vez que escuchó el violonchelo, con cuatro años, este atrapó su corazón .
http://www.youtube.com/watch?v=Qbs2H_PvGpE&feature=related
En su familia eran amantes de la música y su madre, pianista, comenzó a darle lecciones de violonchelo, unas especiales lecciones como Jacqueline relata:
Well, I heard it on the radio when I was very small, when I was four. And, although I don't remember the sound at all, I liked it so much, apparently, that I asked my mother to give me the thing that made that sound. And she did. She gave me a big, big cello, which I learned to play. But she'll be able to tell you more accurately about that.
She was marvellous, because she has a great talent for teaching small children, and she started off by writing little tunes for me when I could hardly play the thing at all, and she added words to these tunes, and on the opposite side of the page she drew beautiful pictures illustrating the tunes. And she used to do these while I was asleep, and I could hardly wait until the morning came, because in the morning I'd wake up and find this beautiful thing waiting for me. And then we'd rush down and play it together. And that really made me very excited about the cello.
http://www.youtube.com/watch?v=kNmWvI833Sk
Después inició sus estudios oficiales en Londres, también, tocaba con su hermana que estudiaba la flauta travesera. A los diez años ya ganó un concurso internacional, a los doce ya tocaba, en su primer concierto, en la BBC de Londres.
Estudió con los mejores violonchelista: William Pleeth, en Londres; Paul Tortelier, en París; Rostropovich, en Rusia y Pau Casals, en Suiza. En 1960 ganó la Medalla de Oro de la Guildhall School of Music de Londres y el Queen's Prize para músicos británicos En 1965 grabó el Concerto para violonchelo de Edward William Elgar con el director de orquesta y violonchelista John Barbirolli, que le atrapó de por vida y fue un gran éxito y comenzó a tocar con los mejores músicos de la época.
Disfruta viéndola hablar, reír y tocar con William Pleeth y hablando de sus maestros, de Pau Casals, de Rostropovich,…
http://www.youtube.com/watch?v=NOMOSIlvm5w
Edgar cello concert con Barbirolli:
http://www.youtube.com/watch?v=JVTe8Zm1Xrk&feature=PlayList&p=24C8D6FCB986CE38&playnext_from=PL&playnext=1&index=23
Barbirolli habla de Jacqueline:
http://www.youtube.com/watch?v=J2oRgKYAcUg
En 1967 se casó con el pianista argentino Daniel Baremboin, y comenzaron a tocar juntos; Daniel, también, comenzó a ejercer como director de orquesta. También tocaban en trío con el violinista Pinchas Zukerman, Zukerman decía que Jacqueline comunicaba sus intenciones con algo parecido a la telepatía, el entendimiento musical entre ambos era extraordinario.
Edgar cello concerto con Baremboin a la batuta:
http://www.youtube.com/watch?v=f6wt64X8Am0&feature=related
El trío:
http://www.youtube.com/watch?v=q8Dx3EVFfYM
http://www.youtube.com/watch?v=Vdt1S7y6nqM
Pinchas Zukermann
http://www.youtube.com/watch?v=3r6F9LiRvj0
Cuatro años después de su matrimonio con Baremboin los dedos de Jacqueline comenzaron a perder sensibilidad y tuvo que dejar de tocar cuando tan solo tenía 28 años, una venenosa enfermedad consumía su cuerpo, le diagnosticaron esclerosis múltiple, después de insufribles dolores físicos y psíquicos, la enfermedad nos arrebató a Jacqueline du Pré, con sólo 42 años, un 19 de octubre de 1987.
Entrevista:
http://www.youtube.com/watch?v=Vdo_LheYMNY
En el rostro de Jacqueline du Pre se podían leer sus pensamientos y siempre había una sonrisa, de hecho sus amigos le llamaban Smiling porque tenía una sonrisa constante y muy hermosa.
Afortunadamente su discografía es muy extensa y podemos escuchar sus geniales interpretaciones de grandes compositores a los que ella llegó.
Remembering muestra su vida, con imágenes y videos, vale la pena verlo:
Mira como toca el piano:
http://www.youtube.com/watch?v=-zUXaBW4wtQ
http://www.youtube.com/watch?v=gSYfqb45zkI&feature=related
http://www.youtube.com/watch?v=I5N7LPbHIR4&feature=related
Tocando el violín:
http://www.youtube.com/watch?v=ipXN1vd6QpE&feature=related
http://www.youtube.com/watch?v=3z-KfsufGWw&feature=related
http://www.youtube.com/watch?v=4JjLJUVrAxM&feature=related
Un adagio para Du Pré de la mano de Haydn:
http://www.youtube.com/watch?v=yPlDGZ2A0Gs&feature=PlayList&p=D39F9BD4BB40188C&playnext_from=PL&playnext=1&index=15
Y un moderato:
http://www.youtube.com/watch?v=8I0mxuMyzfg&feature=watch_response_rev
http://www.youtube.com/watch?v=8ijSrsu8aMs&feature=related
Y un allegro:
http://www.youtube.com/watch?v=ib9s5LunvFI&feature=related
Y un Granados: