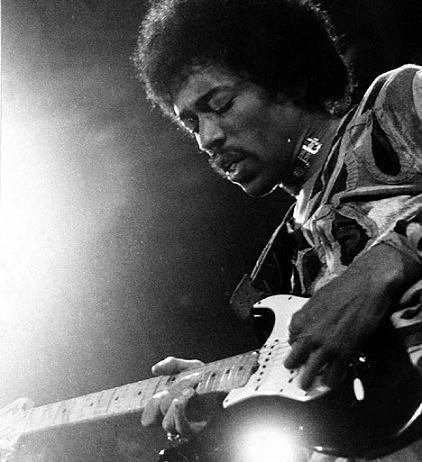 Hoy hace 40 años que el mundo dejó que perdiéramos al gran Jimi Hendrix. Solo tenía 27 años y tras su muerte se le considera el mejor guitarrista de todos los tiempos y digo todos.
Hey Jimi I want to listen your voice and your guitar this evening and become drunk with your music and your smile!!!
There must be some kind of way out of here!
Si quereis rendir home' n age a Jimi:
Hey Joe (25 años):
http://www.youtube.com/watch?v=PcjMwcnaa90&feature=related
Jimi:
http://www.youtube.com/watch?v=bng3agUOYiI
http://www.youtube.com/watch?v=M7alzhFMVqE&feature=fvst
http://www.youtube.com/watch?v=nqS2KieC_JM
http://www.youtube.com/watch?v=rf-Mtd2A1DI
http://www.youtube.com/watch?v=nGqPzrNypzw
http://www.youtube.com/watch?v=YF4-r2MpRMs
http://www.youtube.com/watch?v=B91ZZE8hMgs
http://www.youtube.com/watch?v=Yk0jNWxoLfY
http://www.youtube.com/watch?v=-H7fhq4yX0w
Interviews:
http://www.youtube.com/watch?v=IDph5pEc2lU
http://www.youtube.com/watch?v=7FpwgUXWrEY
http://www.youtube.com/watch?v=-ZcnQoxZA4E
http://www.youtube.com/watch?v=chMrS1Qa7xs&feature=related
B.B.King and Buddy Guy speaking about Jimi:
http://www.youtube.com/watch?v=chMrS1Qa7xs&feature=related
Hey!:
http://www.youtube.com/watch?v=B-ZYUaRKQkk&p=CE2CD4434EDC9B56&playnext=1&index=31
Spanish Castle Magic: