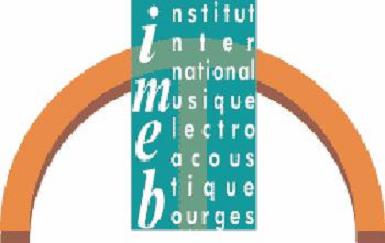 El Instituto Internacional de Música Electroacústica de Bourges (Francia), seguramente el más importante a nivel internacional en creación musical tecnológica, que ha desempeñado labores de creación, investigación, difusión, formación/enseñanza, ediciones bibliográficas y fonográficas, archivo/estudio y conservación de músicas electroacústicas, desde el 2003 ha ido menguando en su recepción de subvenciones hasta llegar al punto de que existe la intención de cerrarlo.
El IMEB ha estado celebrando desde 1970 unos de los más importantes festivales de música electroacústica del mundo: el Festival Internacional de Música y Creación Electrónica de Bourges, también conocido como Festival Synthese de Bourges y, ahora, es posible que no pase de su 40ª edición.
El IMEB se fundó en 1970, entonces se llamaba GMEB y así se llamó hasta 1994. Lo fundaron y le siguen dando vida los compositores Françoise Barrière y Christian Clozier. Desde 1997 está reconocido como Centre National de Création Musicale y funciona con subvenciones del Ministère de la Culture, de la Direction Régionale des Affaires Culturelles, de la Ville de Bourges, del Conseil Régional du Centre y del Conseil Général du Cher. Pero, al parecer, según manifiestan, al tiempo que piden apoyo, la delegación del Ministère en région (DRAC) ha expresado la firme intención de cerrarlo.
¿Músicos electroacústicos del mundo compondréis un RIP o un canto de esperanza?

http://es.wikipedia.org/wiki/Festival_Internacional_de_Bourges


Petición de apoyo:
Request for Support for the International Institute for Electroacoustic Music Bourges IMEB
After a first reduction of IMEB's subsidy in 2003 and a second in 2009 amounting to 32% of the total budget, the delegation of the Ministry in the Region Centre (DRAC), without consulting the other institutional partners contributing to the subsidy, has expressed its firm intention to close IMEB.
If the reduction in funds by the DRAC is not cancelled within the next days, the closing of IMEB will be unavoidable before the end of 2009.
We ask that those colleagues of all countries who wish to see IMEB continue its activities immediately sign the petition at this address: www.supportforimeb.org.
The petition and signatures will be sent daily to the Ministry of Culture, but also to the Presidents of the Regional Council and the General Council, in the hope that the support and the subsidies to IMEB will be continued and increased.
Thank you very much for your solidarity.


Demande de soutien pour l'IMEB
Après un premier désengagement en 2008 suivi d'un second en 2009 portant sur 32% de sa subvention, la délégation du Ministère en région (DRAC), sans accord avec les autres partenaires institutionnels, a exprimé en troisième étape sa ferme intention de fermeture de l'IMEB.
Si la diminution financière de la DRAC n'est pas annulée dans les jours à venir, la fermeture de l'IMEB sera inéluctable avant la fin 2009.
Il est proposé aux collègues de tous pays qui souhaitent voir l'IMEB poursuivre ses activités, de signer le plus vite possible la pétition qui se trouve sur le site www.supportforimeb.org.
Cette pétition et ses signatures seront transmises jour après jour au Ministre de la Culture, mais aussi aux Présidents des Conseils Régional et Général afin que ceux-ci confortent leurs soutiens et subventionnements à l'IMEB.
Nous vous remercions pour votre solidarité active.


Oquedades: (Oquedades is published in dvd with the book "Obertures del Cos" and dedicated to the video quadrilogy, printed from the Universitat de València.
It's also present in the archive of the Festival D-Neff in Vitoria-Gasteiz.
Its musical version was bought from the IMEB of Bourges.)
http://www.youtube.com/watch?v=8a8Q1BC_0nY
Olas de Kokoro: (Sylvi received Honourable Mention at the International Musique Electroacoustique Bourges, France (1999) for Waves of Kokoro, with the Voices & Breaths of Kokoro Dances Barbara Bourget & Jay Hirabayashi, Birds & West Coast Soundscape)