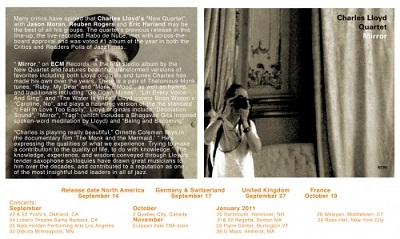 El espejo de Lloyd no solo permitió las primeras medidas interferométricas de los objetos astronómicos, también es el último Cd del saxofonista Charles Lloyd titulado Mirror, espiritual y free. Su compañera y productora, Dorothy Darr, se autoretrata, se plasma, en el espejo por medio de la fotografía en la portada.
Por cierto, el 16 de noviembre actuará en el Auditori de Barcelona.
http://www.auditori.cat/ct//programacio/llistat_ampliat.aspx?&data=16/11/10&mes=11&any=2010
http://febrerillloco.blogia.com/2010/092301-42-voll-damm-festival-internacional-de-jazz-de-barcelona.php
Charles Lloyd New Quartet
está formado por:
Charles Lloyd, saxo tenor y alto;
Jason Moran, piano;
Reuben Rogers, contrabajo;
Eric Harland, batería.
12 interesantes temas:
I Fall in Love too Easily/ Go down Moses/ Desolation Sound (Lloyd)/ La Llorona/ Caroline (Beach Boys)/ Monk's Mood (Monk)/ Mirror/ Ruby my Dear (Monk)/ The Water is Wide/ Lift every Voice and Sing/ Being and Becoming. Road to Darkshineshwar with Sangeeta/ Tagi (Lloyd).
http://www.youtube.com/watch?v=H9FT9S7XDUw
Lloyd
http://www.charleslloyd.com/
http://www.apoloybaco.com/charleslloydbiografia.htm
http://www.myspace.com/thecharleslloyd
Moran:
http://www.myspace.com/jasonmoranonbluenote
Rogers:
http://www.myspace.com/reubenrogers
Harland:
http://www.myspace.com/ericharland
Charles Lloyd New Quartet and more videos:
http://www.youtube.com/watch?v=Fn0xsx7r108
http://www.youtube.com/watch?v=FE6MpQXqU4g
http://www.youtube.com/watch?v=rv-m6NTwBUE
*